Homepage
>
Dual Deep Fat Fryer
- Model #: L-DF401B-T

Make two of your family's favorite fried foods at the same time with this versatile dual basket fryer!
Enjoy restaurant quality fried foods at home with this professional dual deep fryer!
The dual basket design lets you cook fish and chips or fries and onion rings at the same time. Or use the extra large basket for large pieces of fish or chicken and large portions. Features 1700W power with temperature indicator lights, full immersion heating element for fast heating, adjustable thermostat (up to 375 degree), timer, splash lid with window, cool touch handles, stainless steel finish, dual filter system to help eliminate odors, skid proof rubber feet for safety and removable non-stick enamel pot for easy cleaning. Extra filters available. 15" x 15" x 9". (12.5" x 11.5" x 7.5" interior).





12/30/2011 - 1973 - MIAMI, FL
I ordered this for my partner and he loves it. It was one of his Christmas gifts. that weekend we made waffles and chicken, home fries,and he we just used it again tonight. This is mos def a great but and looks good in any kitchen. I would recommend this item to anyone who loves to fry food. FYI also the 115 drill bit that they have here is awesome to. heck I did a lot of my Christmas shopping with this site and will continue to use it. Heartland I'm so glad i found this site great finds good prices who could ask for anything more.
---





5/17/2011 - KBJ - Huntsville, AL
Very surprised. Frys chicken tenders, fish, and fries perfect every time. Very happy with this purchase.
---





2/24/2011 - JMT - Meadville, PA
There is a god!! If you like chicken wings this is the deep fryer you HAVE to have in your kitchen!!!! Received mine today had to try it . I am 1000% satisfied with this fryer. This is the closest you will get to a commercial fryer. Sick and tired of cooking a handful of wings at a time? Dropped a dozen LARGE wings, they just covered the bottom of the large basket, had room for at least another dozen. Perfect for large families or wing parties.
---





1/19/2011 - GK - starke, FL
---





10/22/2010 - DB - Merrillville, IN
Outstanding item, I am very well PLEASED with my purchase. The food comes out perfect and very tasteful! It will make a great gift item!!! I have already placed another order for one as a gift!
---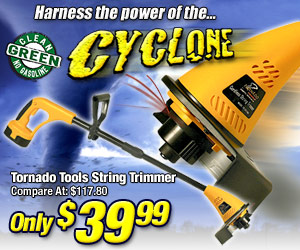 Write a Review
You might also be interested in...