Homepage
>
Metal Meat Slicer
- Model #: 8808

Mother of three saves big on her monthly food bill while treating her family to fresher, healthier meals!
How a food slicer positively changed one family's life - and how it can do the same for yours!
A mother of three looked at the ingredients in her favorite processed meats and was shocked. They were loaded with chemicals she couldn't pronounce, laced with dyes, packed with sodium and priced sky high. That's when inspiration struck. "Instead of buying unhealthy and expensive processed meats, veggies and cheeses," she thought, "why don't I buy unprocessed whole foods and slice them myself?" She ordered this quality Savoureax Pro Line® food slicer and that's when the benefits began. She immediately saw dramatic savings on her grocery bill and noticed that foods tasted better. She also felt good about packing healthier lunches for her kids. And because unprocessed foods are lower in sodium they even helped lower her husband's blood pressure! If you've shopped around, you know that high-quality meat slicers like this are generally priced hundreds more. But this model is not only affordably priced, it's easy to use and built to last! It has a die-cast aluminum body and a stainless cast steel base for rock solid performance and durability plus a tilted design that makes slicing easy. Also features a high-power 100W (180W max) motor, 100 RPM 7-1/2" stainless steel blade for fast, efficient slicing, adjustable thickness from paper thin to a thick and hearty 1/2" and suction cups for extra stability. 14"x10"x10".





11/14/2011 - JS - STATEN ISLAND, NY
THIS LITTLE BABY SLICERS MEATS NICELY, AND DOES NOT TAKE UP ALOT OF ROOM. I AM GLAD i GOT THIS SLICER. JUST GET ONE OF THE THESE BABYS YOU WON'T BE SORRY.
---





12/28/2010 - LHE - Dublin, VA
I got this about 6 months ago.This thing rocks,im a hunter and I love Jerky.Thisslices the meat paper thin . I buey lunch meat in bulk and slice my own. ther are many slicers out there ,and i have owned them all.This one puts them all to shame I gaveall the others away Ihighley recomend this slicer.
---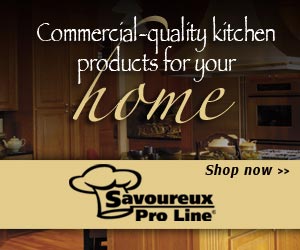 Write a Review
You might also be interested in...