Homepage
>
Saddle Tramp® Cherry Western Boots
- Model #: MS-0035
Theyļæ½re the real deal ļæ½ Saddle Tramp® western boots have unparalleled comfort, timeless styling and wild west attitude!
These Saddle Tramp® cowboy boots will be the most comfortable boots youļæ½ve ever worn!
These boots have a look that demands attention - and respect! The uppers and shafts are precisely cut from full grain leather for a great fit and have a glowing cherry finish. Also features traditional western decorative stitching, antique style protective metal toe and heel rands and a long-life outsole with 2" riding heel. 12" height. Mens wide width size 14.





1/19/2012 - DR - Waco, TX

I don`t know who I love the most. My wife or my Saddle Tramp Cherry
Western Boots.

Rodeo Man
Waco, Tx.
---





7/27/2010 - NVP - Franklin, PA
Just got my new Saddle Tramp boots today, and they are fantastic !! They are a little darker than the icture shown, but they look even better !! Hard to believe they are such a low price !! Cant wait to wear them out on the town !!
---





12/6/2009 - TL - Wide Ruins, AZ
My husband, a former PRCA Cowboy, asked for these cowboy boots to be his Christmas Present. He couldn't wait for Christmas and is wearing them almost every day. He loves them and says they are the most comfortable boots he has ever worn ( and he can be hard to please). They look great too!! Wrangler's NFR Rodeo Las Vegas here we come!!
---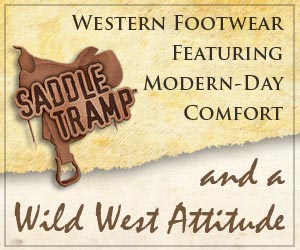 Write a Review
You might also be interested in...