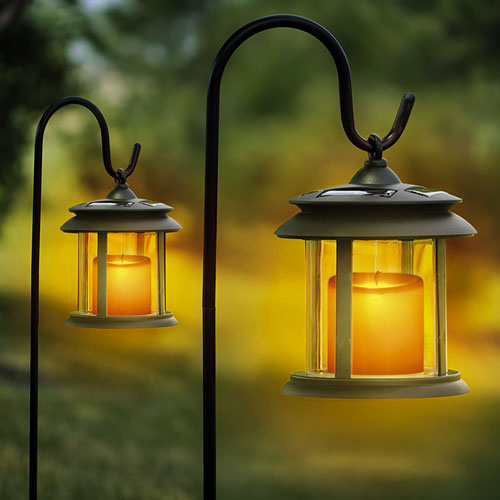 Enjoy the old world charm and ambiance of candle light without dangerous flames!
Flicker Candle Solar Lights - Pair
Item No. WW22-65629

2,235 sold


This charming carriage lantern runs on the sun and has flickering LEDs for the look of authentic candle light!
In the days of old, people relied on the trusty carriage lantern to guide them on their way. Now you can too! This lantern has a quality solar panel that harnesses the sun's energy by day and stores it in an on-board battery pack. When dusk arrives, it automatically comes on and burns bright for hours. Also features high-quality LED with up to a 10,000 hour life span, durable ABS construction, ground spike, metal pole and shepherd's hook. 28.5" x 6" x 7.5".
PLASTIC BUT NICE ADDITION Review by GEORGE

These lights are about just what I expected when I ordered them. I bought 4 in the package and 2 are working and 2 have not worked. The light at night is not bright but it does add to the high decorative arch they are on each side of, placed into the middle of big flowering pots. Dont expect, though, to go outside at night and read a book. So far they have held up great in heavy rain and high winds. I hope to get the other 2 working and finish decorating my patio. If you can wait until they go on sale, do so, as they do add to existing scenery. (Posted on 8/19/2015)

I bought two of these lights. They have a... Review by TBD

I bought two of these lights. They have a nice random flicker that looks like a candle, but one of the lights glowed orange (nice color) and the other one glowed white/yellow and did not look good next to the other. The cheap rechargeable batteries went out after six months and I replaced them with good quality, name-brand rechargeable batteries. They worked better after that. But they only recharge when they get full sun. Cloudy/foggy/rainy days give them almost no charge. They only glow for an hour or two on nights after nonsunny days. When they have full sun during the day, they glow all night long. (Posted on 11/21/2010)

love these lights! I am a out door lights... Review by P.K.

love these lights! I am a out door lights person love to watch the night sofley
go down with the flicker of these lights.Done some shopping and these are hard to find , also these are the soft yellow, what you see is what you get, and they are made to last a whilethamk you !! I will be getting more.
patt k.. (Posted on 9/21/2010)

I have 4 of these and they are beautiful!!!!... Review by MC

I have 4 of these and they are beautiful!!!! Love them, ordering 4 more! (Posted on 3/3/2010)

I've searched on Amazon -- these are the... Review by JSK

I've searched on Amazon -- these are the prettiest carriage-style solar accent lights I could find. The candle flicker looks real and mine are going all night long. Best of all, they have easily removable AA nicads. So if you have a party coming up and it's been overcast, you can put them into a charger. Batteries will be easy to change when they wear out too. The plastic around the solar cells is thick, protecting them and the wire connections. I think they will last a long time.

The cons are that they are just accent lights, and not as bright as a candle. Also, one of the two I got wasn't charging because the solar panel was hooked up backwards; I had to disassemble it and switch the wires around. (Posted on 9/26/2009)

Received them as a gift. Didn't think much... Review by L.M.

Received them as a gift. Didn't think much of them at first glance as I'm not real fond of solar lights I've seen around our neighborhood. These however look great at night! The flicker of candle light is very realistic and I think they look better than the constant glow of the standard Blue or Amber solar lights available at local hardware outlets. They do not provide enough light that I would rely on them for lighting in a safety (Walkway / Stairs) situation. The only problem I had was that a photo cell on one of them was not secured in it's mounting hole. However, there was enough excess hot glue left inside to re-melt and glue it back into position. No problems since then. Will most likely order more if still available when landscaping is near completion. (Posted on 6/2/2009)

I love these flickering solar candles. ... Review by JADE

I love these flickering solar candles. They give off this warm glow at night and the flickering really makes these candles look so realistic. I bought 2 sets for my patio, I love them so much I plan on buying another set. Makes sitting in my backyard such a pleasure in the evening, Soothing & relaxing! (Posted on 6/15/2008)
| | |
| --- | --- |
| Brand | Heartland America |
| Condition | New |
| Model Number | ESL-04-8 |
| Part Number | N/A |
| UPC | 845402000360 |
Notice to CA Residents:
WARNING:
This product may contain chemicals, including lead, known to the state of California to cause cancer and birth defects or other reproductive harm.
You also might like...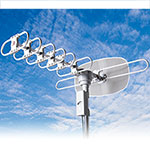 Compare At: $96.71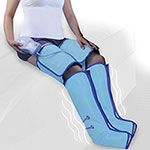 Compare At: $199.95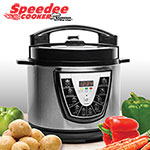 Compare At: $229.66
WAS: $99.99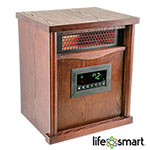 Compare At: $199.99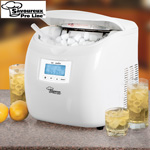 Compare At: $494.40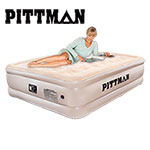 Compare At: $79.99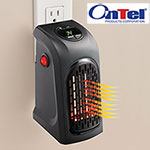 Compare At: $139.00