214 Piece Titanium Drill Bit Set
Item No. 700410
Compare At $704.06
WEB-ONLY
Add'l Ship $4.95


$

29

36
Every drill bit you'll ever need - 214 pieces in all and built to last a lifetime!
Now you'll never have to make a special trip to the hardware store to get the drill bit you need. This set has 214 titanium-coated bits that are superior in every way to the finest HSS steel bits. So they effortlessly bore through wood, plastic, metal and more. Includes 40 pieces 3/64" & 1/16", 30 pieces 5/64", 3/32" & 1/8", 10 pieces 9/64", 5 pieces 5/32", 4 pieces 11/64", 3 pieces 3/16", 7/32" & 15/64" and 2 pieces 1/4", 9/32", 19/64", 5/16", 21/64", 23/64", 3/8" and 1/2". Comes in indexed, hinged, enameled steel case.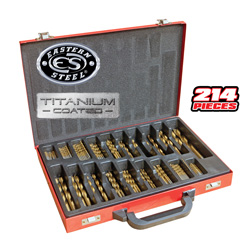 THIS IS A WEB-ONLY promotion for Heartlandamerica.com. Phone orders and source codes will not be honored.
* Limited to stock on hand: No rainchecks, no backorders. Strict limit of 2 items per household. First come, first served. Due to limited allocation and availability, no additional discounts will apply including Value Club America. Due to special nature and limited allocation of Super Deal inventory, there is a 7 day return policy on all Deal of the Day items.