Join the Value Club America® Today and Save 10% On This Purchase and receive a $5 Heartland Dollars Card! Plus Get 10% Off Every Item You Buy For Six Months!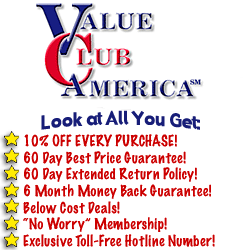 We'll even help cover the cost with a $5 Heartland Dollars Card FREE!
Today's Special $19.99
* We GUARANTEE that you will save AT LEAST $19.99 within the first 3 months of your membership. If not, give us a call and we'll gladly credit your account for the balance!
If you have any questions about this offer please don't hesitate to call:
1-800-229-2901
Start Saving Money Today!
Offer Terms and Conditions
10% Off ANY Purchase
As a Value Club Member, you will receive 10% OFF any item advertised in our Heartland America catalog, website, newspaper ads or magazine ads (maximum discount is $30 per item).

60 Day Best Price Guarantee
If, within 60 days, you see an item you purchased from us advertised in another Heartland America catalog for less than what you paid, we will refund the difference.

60 Day Extended Return Policy
Take up to 60 days to evaluate any item you have purchased from Heartland America. If you're not completely satisfied, return it to us, and we will cheerfully refund the merchandise price.

"No Worry" Membership Renewal
At the end of the 6 months, you will receive a notice that the trial has ended. At that time, if you choose to continue with the membership, do nothing, and your card will be charged a refundable deposit of $39.99, which will extend your 10% discount for another 12 months!

Exclusive Toll-Free Hotline Number
Because we want your calls to get top priority, we have a special number for Value Club members only: 1-800-648-4282. Your call will be handled with the utmost promptness, courtesy and efficiency possible.

Computer or computer related products
Due to the rapidly changing technology of this industry, computers and computer related products (scanners, printers, accessories, etc.) carry a 14-day Satisfaction Guarantee. Call 1-800-478-8365 for Return Authorization information. No returns will be accepted for computers or computer related products beyond the 14-day Satisfaction Guarantee Policy period. In the event you need replacement parts or repair please contact the manufacturer.