Homepage
>
Advanced Metal Detector
- Model #: GC-1035

Gold Digger® presents the new face in advanced metal detection - if it can't find treasure, it's not there!
The Gold Digger® GC-1035 programmable metal detector is one of the most powerful metal detectors on the market.
It's so sensitive, it can find a quarter buried up to 10" in the ground and can find larger caches of coins, jewelry and other treasures at depths of up to 4'. Plus, thanks to it's advanced 3-tone discriminator, it can tell you exactly what metal you've detected so you don't waste your time digging up trash. Also features new and improved LCD display with signal strength indicator, 4 modes (all metal, disc, notch and auto notch), 8 target metal categories, 2 detecting modes (motion and non-motion), 12 sensitivity degrees and 8-1/2" waterproof coil.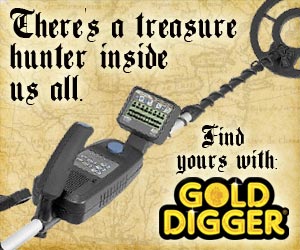 Write a Review
You might also be interested in...